A typical day in Reception will look like this:
8.50: Reception doors open
9.10: Register, prayer and whole class teaching time
9.30: Independent learning time and small groups
11.00: Carpet Time – book focus
11.30: Prayer and Lunch
12.45: Carpet time – whole class teaching
1.00: Independent learning time and small groups
2.45: Story time
3.10: End of school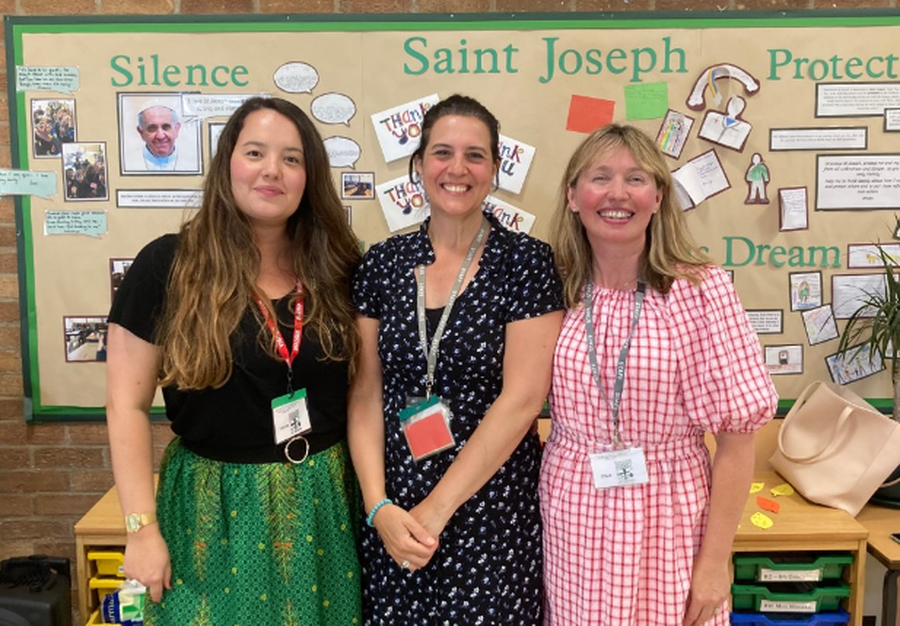 Our Teachers - Mrs Sekulic, Mrs Oates and Mrs Mclachlan
Useful Information
We have four short carpet times a day, led by an adult. The rest of the day is independent learning time and punctuated by short adult focussed activities – these include Literacy, Understanding the World, Physical Development, Phonic, Expressive Art's and Design and Maths groups. During this time, children have access to the small and big outside learning areas.
What clothing will I need?
School uniform includes grey/black trousers/shorts/skirt/tunic/green summer dress, a white polo shirt (with or without the school emblem) and a green school sweatshirt/fleece/cardigan. A green St Joseph's book bag. Please bring a named water bottle and take it home EVERY day to be cleaned and refilled. We can refill during the day if needed.
Please bring in wellies and a rain coat that can stay in school all week (they can go home on Fridays if you need them for the weekend).
Reading
The children are taught phonics and spelling using recommended synthetic phonics. Books are banded and children progress through the bands matched to their phonic and reading development. Each week children take home a phonically decodable book which links to their phonic development and the phase they are currently being taught, as well as a library book. Read for a short time each day, ask questions about the text and pictures. ​Read the book at least two times. Please add any books you read to the reading diary so we can see which books you are enjoying at home. Books are changed ones a week and should be brought in everyday along with the reading diary. ​
Lunches
We encourage all children to have school lunch (which is FREE!) as this promotes:
Social skills
Using a knife, fork and spoon
Healthy eating
Children get a hot school lunch, cooked on site and can choose either a meat or vegetarian option. Dietry and allergies can be accomodated, please tell the school.
Forest School
Forest school takes place in our forest! ​It is led by Mrs  Wermeser with one teaching assistant, children have one session per week. The forest is safe, enclosed and checked before each session and children take part in all weathers! Children learn how to take risks, work as a team to overcome obstacles and challenges, build dens and even how to cook outside too! ​ Volunteers to support this activity are always welcome. Please let the class teacher know if you are interested in supporting Forest School.
Design and Technology​
Using creativity and imagination, children design and make products that solve problems in a range of contexts. This draws together knowledge from mathematics, science, engineering, computing and art, as well as life-skills such as tool use, perseverance and evaluation. ​The DT curriculum includes cooking, electronics, structures, mechanisms and textiles. We are also working on woodwork!  ​Mr James is our specialist Design and Technology teacher​.